COOK WITH MR VIVALDI!
VIVALDI CHOCOLATE POTATO CAKE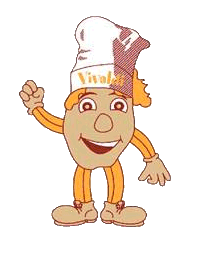 Ingredients

for the cake

180g Butter

125g Sugar

3 Eggs

Pinch of Cinnamon

1 Teaspoon of Vanilla Essence

180g of self –raising Flour

75ml of Milk

80g Coco Powder

1 Teaspoon of Baking Powder

110g of Mashed Vivaldi Potato

for the chocolate Icing

120g Soft Butter

240g of Icing Sugar

2 Tablespoons of Coco powder or melted Chocolate

1 Teaspoon of Vanilla Essence

Method

Pre-heat oven to 190°C/375°F/Gas mark 5

Whisk together the butter and sugar until it is light in colour.

Add one egg and whisk again adding a little flour. Repeat this until all the eggs and flour has been whisked in.

Add the cinnamon, coco powder, baking powder, milk and vanilla essence and whisk again.

Add the mashed Potato and whisk thoroughly. This will ensure you do not have any lumps in your mixture and enough air has been introduced into it in order for it to rise.

Place mixture in 8"/20" cake tin and place in oven for 30 mins

Turn oven down to 180°C/350°F Gas mark 4 and cook for a further 20 mins.

Remove from oven and leave to cool for 20 mins, then remove from tin and place on wire rack

Icing

Beat butter and icing sugar together until light and creamy.

Add Coco powder and Vanilla essence and mix again

When cake has cooled, apply icing. You can also decorate your cake with chocolate buttons and Smarties for special occasions.

Helpful Tips!

All ovens are different and if you are unsure if your cake is cooked, ask a grown up to gently press the middle of it. If it is cooked the cake should spring back to place. If it leaves a finger mark, the cake has not cooked enough and needs more cooking time.

SAFETY IN THE KITCHEN

It is so important to have an adult in the kitchen with you when you are cooking. So many accidents happen in the kitchen because people do not take the necessary precautions. Below is a list. I would like you to put a tick next to the sentence that is correct, and a cross next to the sentence that is incorrect. Show an adult to see if you have got it right.

* Always cook with supervision

* Don't bother to wear oven gloves

* Don't drop sharp knives in the sink

* Wash hands, tie back hair and wear an apron

* Leave the kitchen a mess

* Don't forget to time the cake cooking

* Be responsible & use the kitchen equipment with care

---
Copyright © 2005 by Girlie_Biker/Girlie-Biker. All rights reserved.
Logos used by permission of Naturally Best & Vivaldi Racing.
Revised: 07 Jul 2012 11:45:21 .