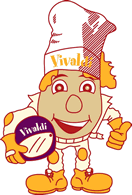 Vivaldi Racing
So what's the story on this Vivaldi then? is the question I was asked at Mallory. As indeed I asked myself at Brands Hatch. Vivaldi? What's it all about? Well here's the story...
Vivaldi - a potato for all seasons.
Nothing to do with the classical composer, more to do with compost and careful growing.
Yes, it's a variety of potato. Brought to a Sainsburys near you by Naturally Best. Ask for it next time you're in Sainsburys, I guarantee you won't be disappointed. Cross bred to produce a new variety, the Vivaldi spud has a strong naturally buttery and fluffy nature, quite simply the British Super Spud (although grown worldwide to ensure a constant supply throughout the year).
It's got to be tried to be believed. This from someone who piles butter onto a baked potato (they can be terribly dry without). I sampled my Vivaldi cautiously and was very pleasantly surprised to find that it really didn't need the addition of butter at all. When it comes to mash these potatoes are probably the healthiest choice to be found as with its naturally creamy taste you don't need to add butter or milk - a real luxury for people avoiding dairy products, or added fats.
Mr Vivaldi (pictured above) is a great supporter of young talent in sport, not content with two riders each in the BSB and National Superstock Championship, Vivaldi is sponsoring James Pickford in the 2005 British Touring Car Championship driving for Seat Sport UK, as well as 21 yr old Thomas Doe in his Formula Ford in the National Kings of Kent Series.
Vivaldi sponsored the Thundersprint, where it seems a great time was had by all. Take a quick peek at how the event went.
It's not only motorsports which interests Mr Vivaldi - the Vivaldi Atlantic 4 crew aim to break existing Atlantic Rowing records (yes, rowing!) and to create a new one - rowing from Newfoundland, Canada to Falmouth, UK. The team is due to set off from Canada in June and land less than 55 days later back in the UK.
To top that off Vivaldi supports The Boston Barbarians and the Boston Rugby Football Association, along with Paul Creasey, Assistant Professional Golfer at Boston West Golf Center, Lincolnshire. Vivaldi is Paul's official sponsor in the 2005 Euro-Pro Golf Tour.
As if that isn't enough, Vivaldi takes great pride in their school visits, encouraging youngsters to eat more healthily, and that healthy eating needn't be dull with Vivaldi potatoes. One of their best received school recipes is the Vivaldi chocolate cake.. made with, you guess it, Vivaldi potatoes. I have sampled it and can assure you it tastes nothing like potato. Try it and see..
As well as school involvement Mr Vivaldi is involved with charities, including Leukemia research, The Butterfly Hospice Trust, The Amazing Great Children's Party, Kids Cookery School and latterly the Orchid Cancer Appeal.
Having chatted with senior management the company ethos is all about family values; bringing a family atmosphere to everything they are involved in, be it sport or spuds, encouraging the public to be part of that family spirit, sharing in the wholesome goodness that healthy eating and healthy living through diverse interests brings.
The man behind it all is a modern day philanthropist, who appears to be happiest allowing Mr Vivaldi to take all the credit whilst sharing in the pride and pleasure of the achievements made possible by his generosity. Would that there were a few more Mr Vivaldi's in this day and age of greed and selfishness.

---
Copyright © 2005 by Girlie_Biker/Girlie-Biker. All rights reserved.
Logos used by permission of Naturally Best & Vivaldi Racing.
Revised: 07 Jul 2012 11:45:21.