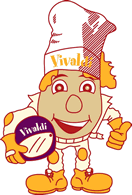 Vivaldi Racing at the Northwich Thundersprint

A good time was had by all at the annual classic motorcycle Thundersprint event held at Northwich in Cheshire at the weekend where Naturally Best, the company behind Vivaldi Racing were one of the main sponsors.

In the midst of all the razzmatazz of Morris dancing, bands and children's entertainment, it's easy to forget that the Thundersprint is a top motorcycle racing event. Baron's Quay car park at Northwich might not be a major international race circuit but the competition on this tiny track is as hot as anything you can see anywhere in the world. In many ways, the Thundersprint is Hollywood - with race engines for a soundtrack. But when the start lights turn green, the competitors are wearing their race faces.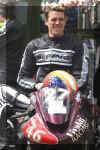 Three of the four Vivaldi Racing riders rode in the Motorcycle Personalities Sprint while the fourth; Aaron Zanotti looked after the competition winners and explained what was happening throughout the day. Also riding in the sprint was Olympic gold medallist rower James Cracknell who recently launched Naturally Best, the boat that the Vivaldi Atlantic 4 will use in their world record attempt to row the North Atlantic.


Ben Wilson led the cavalcade of riders through the town center and when it came to the sprint Tristan Palmer shot away to set the fastest time, Jonathan Pearson representing Superbike magazine was second swiftly followed by Ben Wilson and Ollie Bridewell for Vivaldi Racing.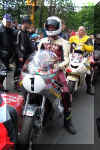 Ollie, who is usually found in the superstock paddock, was thrilled to meet his all time hero Jim Redman who actually let Ollie ride his 1960's Honda CR700 machine.

Six-times World champion and TT winner Jim Redman who also holds the record of being one of only two riders to ever win three Grand Prix races in one day spoke at length to 19-year-old Ollie who was hanging on to every word.

"The w

hole weekend was awesome," said Ollie. "I had the privilege of riding Jim Redman's CR750 Honda around Northwich town center in the cavalcade. Jim is a lovely man who would do anything to help out. How often do you get the chance to ride a six times world champions bike? I just want to say thank you to everyone involved in the organisation of such a fantastic event. I was really proud of my team as they made a big impression on the crowd. It was such a friendly atmosphere and I came away knowing a lot more people had been introduced to Vivaldi Racing and Naturally Best."

Mark Powell, Marketing Director for Naturally Best commented: "Vivaldi Racing were pleased to have to opportunity to meet the 100,000 people who attended this spectacular event and were introduced to Vivaldi Racing and Naturally Best.

From a racing prospective the lads had the opportunity to spend a relaxing weekend away from the tension of competing in the British Superbike Championship and thoroughly enjoyed themselves. It was just such an amazing weekend for us all."

The last word goes to jovial Vivaldi team manager, Richard Wilson who said with a smile and a wink: "It was a very relaxed and happy atmosphere which we all enjoyed – the fact that we fitted all our bikes with hyper sticky qualifying tyres had nothing to do with us wanting to do well!"

---
Copyright © 2005 by Girlie_Biker/Girlie-Biker. All rights reserved.
Logos used by permission of Naturally Best & Vivaldi Racing.
Photos by Peter Downing, report by Helen Pask.
Revised: 07 Jul 2012 11:45:21.