Bennetts British Superbike Championship 2005
I've never been one to follow the winning team or even the most likely to win teams. I usually pick the underdog or being a bit of a girlie, the bike or bikes which best grab my attention (in other words, the pretty ones!). Whilst I'd be overjoyed if my chosen riders managed to win a stage race or even the championship, I enjoy watching the races within the race as they fight for position and work hard to hold off the opposition.
My team of choice for the BSB season was the Vivaldi Racing team.
The boys were spotted by their classy livery; champagne & burgundy, each bike having the opposite detail picked out in these two colours, making these ZX10s stand out from the traditional Kwak greens and blacks. Their riders, Ben Wilson & Tristan Palmer impressed with (OK I admit it the incongruous clashing of their dayglo green logo'd Daytona boots with their lovely burgundy & champagne leathers first caught my attention!) some tenacious riding. Ben's aggressive and determined overtaking (yea yea and undertaking!) paired with an almost devil may care attitude in practice sessions up at Druids corner made for very entertaining racing. Tristan seems to be in the tortoise and hare category - you might not notice what he's up to but he's working his way quietly up the pack when you're not looking.
Ben Wilson - #11 Tristan Palmer - #17
Vivaldi are also fielding two young riders in the National Superstock Championship, 18 year old Ollie Bridewell, as well as 23yrd old Aaron Zanotti. Having two riders in both the BSB and the National Superstock Championship means I have someone to look out for in most of the days races. Ollie & Aaron show great promise and are clearly excellent riders.
Ollie Bridewell - #46 Aaron Zanotti - #64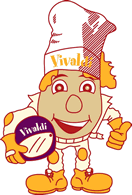 Mr Vivaldi #1
Round 13 - Brands Hatch
BSB
Well, what a finish to the championship. Gregorio Lavilla walked away with the title, but everyone involved walked away with the knowledge of having put their all into the season. Riders have changed livery, bikes and even teams. Teams have changed tactics, riders and even names.
I am happy with my chosen team, I think Ben & Tristan did fantastic in their first BSB season. Scott came along late into the season and with some bad luck mixed in never really had an opportunity to shine. I like Ben's aggressive riding style, he has a distinctive style which can be easily spotted. As determined as a terrier when faced with riders in his path he worries away at them until finally he can capture the space in front of them. He is adept at keeping would be passersby at bay. I have noticed however that once faced with a large gap he can lose momentum and his followers then given the slightest opportunity will steal the lead back. Tristan, I felt didn't really have chance to develop fully over the season. The taste of the front at Mallory was sweet but too fleeting, bad luck with his bike has held him back a little.
This was the final opportunity to shine, Tristan was not fortunate this weekend. Qualifying 25th with Ben 21st and Scott in 15th it was going to take some doing to steal the limelight. Suffering a minor off in race 1 after 3 laps and engine trouble after just 2 laps in the second race dejection was evident as he freewheeled the bike off the track.
Race 1 - A touch more than friendly rivalry seemed evident as Scott and Ben swapped places with Ben first overtaking Scott to take 12th place and Scott just managing to sneak back in to snatch it back. Finishing 13th Ben was less than half a second behind his team-mate.
Race 2 - In true Ben style he worried away at the pack, clawing his way forward past Emmett, Buckingham, Beaumont and Laverty to 11th place where again that gap opened up in front. Laverty managed to slip back in front to retain 11th, with Ben finishing in 12th. Scott couldn't get past Emmett and made it home in 16th place.
Points awarded - Ben - 7 Tristan - 0 Scott - 4
Cumulative points - Ben - 62 Tristan - 28 Scott - 97
League Position - Ben - 17 Tristan - 21 Scott - 14
Superstock Championship
There were surprises in qualifying with Aaron securing a 9th place start with Ollie behind on 13th. Despite their starting positions both riders got away to a good start. Aaron made his way quickly up to 5th place where he maintained his position until the final lap when Reilly just managed to gain the advantage. Ollie held off Steve Allen to secure 7th place hot on his team-mate's tail. This was Aaron's second best finish of the season, with Ollie having become used to the top ten it was par for the course for him, although I'm sure he was hoping to build on past successes and sample some more of the high life on the podium.
(Celebrations will have been had in the Bridewell home as young Tommy once again sailed over the finish to claim his fourth win of the season in the Virgin Mobile cup... will we see the brothers racing side by side next year I wonder?)
Points awarded - Ollie - 9 Aaron - 10
Cumulative points - Ollie - 124 Aaron - 60
League Position - Ollie - 5 Aaron - 13
---
Round 12 - Donington Park
BSB
Scott Smart was back in the saddle following his injuries at Silverstone, qualifying 12th. Ben had to settle for a start in 19th following a crash in the last qualifying session. It wasn't to be Tristan's weekend, qualifying as he did in 25th. Team manager Richard Wilson said "the pace was quick out there despite the adverse weather conditions, all three riders did well to bring the bikes back unscathed in the second race as nearly a third of the field got caught out in the damp and crashed"
Race 1 - Ben made his way to 11th place where he battled for it but lost to Steve Plater, finishing a few seconds behind in 12th hotly pursued by Sean Emmett. Tristan managed a 20th place finish in spite of handling problems which dogged him throughout. Scott picked off Dean Thomas and Tommy Hill to pick up 7th place.
Race 2 - Ben found himself with a touch of dejavu in the second race, fighting Dean Ellison for 12th and having to settle for 13th. Tristan was forced to retire after just 16 laps when the handling became, well too much to handle. Scott managed to hold ninth place and slip in front of Karl Harris to claim 8th place at the finish line.
Points awarded - Ben - 7 Tristan - 0 Scott - 17
Cumulative points - Ben - 55 Tristan - 28 Scott - 93
League Position - Ben - 16 Tristan - 21 Scott - 14
Superstock Championship
It was a disappointed Ollie & Aaron who headed home from Donington; Ollie crashed heavily in qualifying after just 6 laps and whilst just bruised the mechanics had their hands full to ready the bike for the race. Aaron secured a ninth place start and was looking forward to a strong finish on his local track. Ollie managed to secure a 12th place finish from his starting point at 14th, Aaron got off to a bad start and came home in 14th. Both riders managed to bring home points, although it was not what they had hoped for.
Points awarded - Ollie - 4 Aaron - 2
Cumulative points - Ollie - 115 Aaron - 50
League Position - Ollie - 5 Aaron - 13
---
Round 11 - Oulton Park
BSB
Qualifying side by side at 18th & 19th Ben & Tristan were under pressure to bring home the glory with Scott still recovering from his injuries. It wasn't to be however as engines have minds of their own or so it must seem at times.
Race 1 - Ben made his way through to 15th where we stayed until the closing stages, unable to catch Sean Emmett in 13th he had to be content with 14th, just ahead of Tristan who stole 15th out from under John McGuinness.
Race 2 - Both riders got away to a good start, which made it all the worse for Ben when he felt the engine go and had to coast round the track and retire to the pits on the first lap. Tristan came under fire from Kieran Clarke and fought for 16th place, crossing the line with just two thousandths of a second lead on Clarke.
Points awarded - Ben - 2 Tristan - 1 Scott - 0
Cumulative points - Ben - 48 Tristan - 28 Scott - 76
League Position - Ben - 16 Tristan - 21 Scott - 14
Superstock Championship
Round 11 of the Metzler Racetec National Superstock championship was the last race of the day. Qualifying had seen both riders suffer uncharacteristic setup problems. Ollie & Aaron also started side by side in 18th & 19th, Ollie made it through to 15th and managed to fight his way to a 12th place finish. Aaron, unbelievably picked up a puncture in his front tire after just a couple of laps and had no choice but to return to the pits, where he was determined to get back in the race, albeit at the back and with a 4 lap gap crossing the line in 24th place.
Points awarded - Ollie - 4 Aaron - 0
Cumulative points - Ollie - 111 Aaron - 48
League Position - Ollie - 5 Aaron - 12
---
Round 10 - Cadwell Park
BSB
Optimism must have been running high when Scott went out for qualifying, however it didn't take long to realise there was no way he could race although he did qualify in 18th place! Ben secured a 15th place with Tristan a row back in 17th. Tristan suffered a crash in qualifying which left him with a badly bruised arm. We watched from the bank opposite the medical centre. The day was somewhat shadowed by the severe crash in the 125 race which resulted in Chris Jones being airlifted away form the track. Chris later died as a result of his injuries.
Race 1 - Ben got away to a good start and soon settled into 10th position but after just 3 laps he found himself with a fuel problem. Slowing and making some adjustments to his bike Ben managed to stabilise the problem but found himself in 19th position. Clawing his way back through the field Ben managed to secure a 14th place finish. Tristan was running 15th when after 5 laps his engine gave out on him, forcing him to abandon his bike on the approach to the mountain.
Race 2 - Ben saw his 10th place position go up in smoke after just 7 laps as he crashed out of the race at the top of the mountain, unhurt but despondent. With his bruising spreading discomfort throughout Tristan pushed forward to take 12th position at the finish line.
Points awarded - Ben - 2 Tristan - 4 Scott - 0
Cumulative points - Ben - 46 Tristan - 27 Scott - 76
League Position - Ben - 17 Tristan - 21 Scott - 14
Superstock Championship
Ollie didn't quite manage pole position in qualifying, but starting from 2nd place was a good place for Ollie. Aaron was 4 rows behind in 18th; a crash in qualifying left him with an arm injury which he was determined to ride with. The battle of the leaders; Ollie, Adrian Coates and Lee Jackson was fierce, finishing with Coates, Jackson, and Ollie in third. Aaron fought for 10th place but was pipped to the post and completed the race 11th, which given the pain of his torn triceps was a huge achievement.
Points awarded - Ollie - 16 Aaron - 5
Cumulative points - Ollie - 107 Aaron - 48
League Position - Ollie - 5 Aaron - 12
---
Round 9 - Silverstone
BSB
Silverstone was the scene of many a Vivaldi crash this weekend. Ben crashed heavily at Bridge in Fridays testing leaving him with friction burns to the shoulder. Ben finally managed to qualify in 21st place, with Tristan on the same row in 24th. Scott had a good qualifying session securing a 7th place start.
Race 1 - Ben was looking good for a strong finish when he tangled with Steve Plater and crashed out of 11th place in lap 9. Tristan had a steady race and secure a 14th place finish. Scott was involved in a crash with Sean Emmett in the first lap resulting in a broken collarbone.
Race 2 - Ben's luck was not about to change, lap 10 saw him lose the front end at Copse sending him straight to the medical center with a badly bruised arm. Tristan played it safe in the face of the riders falling before him and settled for another 14th place finish in one piece.
Points awarded - Ben - 0 Tristan - 5 Scott - 0
Cumulative points - Ben - 44 Tristan - 24 Scott - 76
League Position - Ben - 17 Tristan - 20 Scott - 12
Superstock Championship
Ollie still had the taste of champagne on his mind, despite tight qualifying; starting from 7th position Ollie got away to a blinding start settling straight into second place. He pestered Adrian Coates for the lead but Coates wasn't giving it away easily. Settling for the runner up position Ollie blamed his second row start for giving him a slight disadvantage. Aaron qualified in 10th but after having to take evasive action when two riders fell in front of him he nearly lost the front end at Brooklands when he lost his rhythm. Easing up and concentrating he completed the race in 11th, picking up 5 points.
Points awarded - Ollie - 20 Aaron - 5
Cumulative points - Ollie - 91 Aaron - 43
League Position - Ollie - 5 Aaron - 11
---
Round 8 - Snetterton
BSB
While a mixed bag for Vivaldi overall this weekends racing was definitely Ben's for the taking, and take it he did. The Vivaldi boys qualified at 13th (Scott) 14th (Ben) & 18th (Tristan) positions. Snetterton is a well known track to all three riders with Ben holding the current Superstock lap record of 1m 08.173s at the 1.9520 mile circuit.
Race 1 - Ben was confident of a top ten finish and was away to a good start from his fourth row position on the grid. He settled for ninth place when Karl Harris & Steve Plater continued to block his progress. Tristan was struggling was problems with his gearbox but managed to claim the 13th place at the chequered flag. Engine problems dogged Scott and slowed his progress, however he still managed to come home in 14th.
Race 2 - Using the first race as his bench marker Ben quickly made his way forward to ninth position in the opening laps. A battle for fifth later ensued with Plater, Hill & Mason. Back markers became a problem in the closing laps, holding Ben up enough to allow Plater to steal fifth with Ben taking the sixth place finish just a second later. Scott & Tristan were caught up at the first corner with another riders mishap, causing them both to do a spot of off-roading before rejoining at the back of the pack. Working their way back through the pack Scott managed another 14th place with Tristan coming in at 20th.
Commiserations go out to Scott & Tristan, and congratulations to Ben for bringing home Vivaldi's first top six position.
Points awarded - Ben - 17 Tristan - 3 Scott - 4
Cumulative points - Ben - 44 Tristan - 19 Scott - 76
League Position - Ben - 15 Tristan - 20 Scott - 11
Superstock Championship
Ollie true to recent form bagged himself a front row start with 3rd position. Aaron wasn't far behind in 9th position. The crowd was not disappointed, nor were Vivaldi when the boys both claimed their best ever finished and a joint podium. Ollie maintained his position until he saw his opportunity to overtake Fitzpatrick and claim second. First place was just out of sight, however Ollie was more than content with his result. Aaron meanwhile became embroiled in a battle for third which he fought and won valiantly.
"I am absolutely over the moon" said a beaming Ollie with Aaron grinning "That was awesome!"
Well done boys!
Points awarded - Ollie - 20 Aaron - 16
Cumulative points - Ollie - 71 Aaron - 38
League Position - Ollie - 7 Aaron - 11
---
Round 7 - Knockhill
BSB
This round Vivaldi were under the spotlight following their new signing; Scott Smart. Fresh from the Suzuki Rizla team Scott is returning to his Kawasaki roots. With the addition of Scott, Vivaldis' position is strengthened not only in this competition but within the racing world as a serious contender. My loyalty will always lie with Ben & Tristan, however I do hope the the addition of Scott to the team is a success and that he fits in to the Vivaldi family.
Qualifying has always been a weak point for the team and Knockhill was no different. Ben was placed 23rd, Tristan 18th, with new teammate Scott 22nd.
Race 1 - Ben made his way through the pack and secured a 14th place finish, Tristan had a difficult start and suffered problems at the hairpin but still managed to claw his way back to a 13th place finish, Scott impressed on his first outing with a 12th place finish just ahead of his teammates.
Race 2 - The track must have felt a tad congested as battles abounded between teams and teammates alike. At one point all three Vivaldi lads plus Dennis Hobbs (Team Nvidia) were determined to take control of 15th position. Tristan held them off however and finished in the coveted position with Scott a few seconds behind him, while Ben had to be content with 18th just behind Dennis Hobbs.
Points awarded - Ben - 2 Tristan - 4 Scott - 4
Cumulative points - Ben - 27 Tristan - 16 Scott - 72
League Position - Ben - 18 Tristan - 21 Scott - 11
Superstock Championship
Ollie and Aaron faired better in qualifying picking up an 8th & a 16th place start respectively.
However both riders were involved in the first corner melee which saw Ollie forced into the gravel by an out of control rider, and then back-ended by teammate Aaron as they rejoined the track. It was a very determined Ollie who cut his way back through the riders to take a fifth place finish, with Aaron completing the race in 12th.
"I am really disappointed with that as I was on for a podium for sure" said Ollie "As we approached the first corner one rider cam across the front of us and we all went into the gravel. I got back on track but then was hit from behind by Aaron who had nowhere to go. it was all a bit chaotic. After that I just got my head down and went for it"
Aaron said "When Ollie appeared I had no way of avoiding him and rattled his exhaust, but we both managed to stay in board and continue on our way. I Had lost two or three places but settled down and may my way through to 12th. By then I was beginning to struggle a bit with rear grip so decided it was best to settle for a safe finish and four points than to risk slipping off if the tyre let go"
Points awarded - Ollie - 11 Aaron - 4
Cumulative points - Ollie - 51 Aaron - 22
League Position - Ollie - 8 Aaron - 15
There were celebrations in the Bridewell household however as Ollie's younger brother Tommy brought home a win in the Virgin Mobile R6 cup. At just sixteen Tommy is the younger ever winner of the R6 race.
---
Round 6 - Croft
BSB
An interesting weekend Croft. Unfortunately I didn't make it to the circuit - just a bit too far we decided in the end. Weather turned out to be mixed so perhaps it was just as well, although it looks as though we missed out on some exciting events.
Race 1 - Ben was denied a top ten finish in the first race when John Reynolds ran into him in the closing stages of the race whilst holding 10th place. Although JR crashed out of the race Ben was able to recover and once out of the gravel and complete the race with a 12th place finish. Tristan suffered problems during the first race resulting in him having to head back to the pits after just 10 laps. He was running in 19th at this point. Ben was upbeat about the Rizla ram-raid "I couldn't believe it when John nearly climbed on the back of my bike. But although a bit down not to have secured the top ten place I was after I am pleased with my times and am improving with every race."
Race 2 - The conditions could have done with improving in time for the second race. This was not to be Bens' race as he slid off unhurt at Hawthorne on the first lap in treacherous conditions. Rain was so bad the race was stopped. Following the restart Tristan grabbed a 15th place finish from the fourteen laps, which given his grid position in the 7th row of 27th in those conditions was enough for him. "Considering the weather and the stoppage I am content to finish in the points." he said, "It was a difficult race on a slippery surface but I managed to keep it upright and see the chequered flag."
Points awarded - Ben - 4 Tristan - 1
Cumulative points - Ben - 25 Tristan - 12
League Position - Ben - 17 Tristan - 22
Superstock Championship
Not only did Ollie pick up his best result so far at Croft, he was also named "Man of the Match" at the BSB Charity football match in Darlington on Friday evening.
Having secured an impressive 7th/second row place start on the grid Ollie found himself struggling with clutch problems during the race. He persevered and worked his way to 3rd place where he was thwarted by the arrival of the safety car on track. Following its departure Ollie found himself back in 5th place in the closing laps. A last lap effort secured him a well earned 4th place finish with teammate Aaron securing a 12th place finish after a grid start of 19th/fifth row. Aaron was working his way forward up the track rider by rider up to 13th place when Peter Hickman shot off the track and into the potato field leaving Aaron to take up his 12th position.
Points awarded - Ollie - 13 Aaron - 4
Cumulative points - Ollie - 40 Aaron - 18
League Position - Ollie - 8 Aaron - 15
---
Round 5 - Mondello Park
BSB
Trying to keep abreast of what's happening over the water was no easy feat for this round. Updates were slow to come through and results only told part of the story. It must have been tough to learn a wholly new (to them) circuit on foreign soil in so little time. Setup problems thrown in made qualifying hard work. Grid positions were 23th for Ben and 25th for Tristan.
Both lads were disappointed with their results, however the experience will stand them in stead for future clashes at Mondello. Ben enjoyed the circuit and whilst he didn't get the top ten finish he was hoping for, at least he'll be familiar with the track for his next visit. Tristan was pleased to have at least finished in both races, unlike some of the other riders, but of course would have like to take home some valuable points.
Race 1 - Ben collected three points completing the race in 13th place while Tristan battled with James Buckingham and arrived at 20th.
Race 2 - Getting away to a quick start Ben leapt from 23rd to 15th off the mark where he then battled with John Laverty, finally leaving him in his wake and crossing the line in 15th less than a second after Tommy Hill. Tristan found Buckingham in his sights once again throughout the second race pipping him to the post however as he finished 18th.
Points awarded - Ben - 4 Tristan - 0
Cumulative points - Ben - 21 Tristan - 11
League Position - Ben - 17 Tristan - 23
Superstock Championship
The demanding and tricky Irish circuit was not forgiving this weekend. Ollie seemed to adapt well securing his highest grid position yet of 8th place, with Aaron two rows back in 15th. After a promising start disaster struck for Ollie at MG corner whilst in fifth place when the young rider lost the front end and found himself parted from his bike. An attempt at a restart failed and that was the end of the race for no 46. Aaron battled through the pack to take up 9th place where he struggled valiantly to hold his position against all comers. The pressure was too much and he slid back to take up 14th where he finished with two points under his belt. Fortunately unhurt Ollie was extremely disappointed and said "it's not like me to crash, but I suppose it had to happen sometime." Aaron was pleased with his performance (and the points) and with the experience gained, which he hopes to put to use in the next round.
Points awarded - Ollie - 0 Aaron - 2
Cumulative points - Ollie - 27 Aaron - 14
League Position - Ollie - 12 Aaron - 15
---
Round 4 - Oulton Park
BSB
Well it seemed I missed an eventful race meeting; Ben picked up a hand injury after crashing twice in the second qualifying session. Team Manager (and father) Richard Wilson said " I've never known Ben to come off twice in one session in his racing career and he started racing at eight!" It's not surprising then that qualifying result put Ben at 23rd on the grid. More surprising is that Tristan was next to him at 22nd. Ben, was stoical about his injuries, friction burns which must have been uncomfortable in the extreme were described as "a bit sore, but nothing I can't handle."
Race 1 - The pressure must have been immense as Tristan's bike stalled on the grid under starting orders meaning he was held back until the grid cleared when he could be safely push-started. His determination to salvage the race (and I would think some pride) paid off. His intense concentration on simply passing every bike in his path got him to an 18th place finish. Ben had a good start and made his way forward to 10th position where a battle ensued for 7th place between 10 riders. Ben finished in 15th place. The action looks to have been a little more civilized than Mallory with just 4 bikes not finishing the race (Julian Da Costa #86, Sean Emmett #5, John McGuiness #44 - who was once to have spearheaded the Vivaldi racing pack - and Dean Ellison #15).
Race 2 - After a mid-afternoon downpour that saw the supporting R6 Cup race halted ahead of schedule, Race 2 made a wet start, however with the threat of the track drying before the finish some riders seemed undecided on which tyres to use. Ben & Tristan obviously made the correct choice and their confidence in the hazardous conditions shone through with them riding in tandem for most of the race swapping positions between themselves before coming home to impressive 13th (Tristan) & 14th (Ben) positions.
Points awarded - Ben - 3 Tristan - 3
Cumulative points - Ben - 17 Tristan - 11
League Position - Ben - 16 Tristan - 22
Superstock Championship
Our Ollie & Aaron qualified 18th & 21st for their round. After a bad start Ollie fought his way forward from 23rd place to a tussle for seventh place where he found himself unable to make further headway and eventually settled back into 9th place which is where he finished. (Ollie was quick to point out later that he needed to spend some time on practicing his starts). Aaron had a steady race, more confident now with the bike and its handling he made his way up to 13th where he held position to the final flag.
Points awarded - Ollie - 7 Aaron - 3
Cumulative points - Ollie - 27 Aaron - 12
League Position - Ollie - 10 Aaron - 16
---
Round 3 - Mallory Park
BSB
Both Ben & Tristan seemed to be more relaxed during qualifying with Ben in particular showing great enthusiasm for this circuit. It was obvious he was enjoying himself and it showed in his riding. When we asked Ben if he was worried it might rain (both days were overcast) he was not worried in the slightest, in fact I think he quite wanted it to rain to make it harder for those less used to wet conditions.
Race 1 - From a grid position of 17th with Tristan in 16th Ben was holding 10th position when the leader's (Kiyonari) crash at Edwina's corner the race caused the race to be stopped with Tristan in 4th. Upon the restart Ben blew his engine, ending his race early. Getting a flying start I was ecstatic to see Tristan leading the pack round the track. That must have been a fantastic feeling. Tristan finished 13th in a race fraught with tension. Tristan later said "I really enjoyed that. My shoulder is still sore from the Thruxton crash but it didn't hinder me too much. To lead a field of world-class riders around my local circuit was awesome although a little nerve racking!"
Race 2 - Race 2 was no easier with the pack being brought back the the pits twice following a bad crash and an engine failure which caused an oil spill. Tristan came in once again at 13th with Ben two places ahead at 11th after some of his trademark aggressive riding, watching him from Edwina's he was simply not prepared to let anyone take him on that corner. Both riders worked hard and I'm sure are trying to rest before the next round at Oulton Park just a week away.
Points awarded - Ben - 5 Tristan - 6
Cumulative points - Ben - 14 Tristan - 8
League Position - Ben - 15 Tristan - 21
Superstock Championship
The Superstock Championship round at Mallory Park was not for the faint-hearted - a tight pack heading into Edwina's corner resulted in several riders colliding with two having to be taken from the track by ambulance. Upon restart a further rider met his fate at Edwina's fortunately he walked away. At this point I was simply holding my breath and crossing everything that Ollie and Aaron would make it round safely, which they did finishing 9th & 12th respectively.
Points awarded - Ollie - 7 Aaron - 4
Cumulative points - Ollie - 20 Aaron - 9
League Position - Ollie - 8 Aaron - 15
---
Round 2 - Thruxton
BSB
After just two days of racing I'm exhausted. I don't know how the lads do it! Practice didn't get off to a great start, Friday practice saw both Ben & Tristan in the later half of the pack. Suspension setup problems plagued Saturdays qualifying sessions resulting in grid positions of 28th for Ben and 24th for Tristan.
Race 1 - Ben fought his way to a 17th place finish. His riding looked far more confident than Saturday. Gaining back 11 places is no small feat, and I for one was very pleased with this result. Tristan was still having bike problems, even from where I was I could see he was struggling, dropping back in the pack and not being able to get any real progress. After 9 laps Tristan did the sensible thing and returned to the pits, giving his crew maximum time to sort out the problems for Race 2.
Race 2 - Disaster struck in Race 2 - just when things looked like they were well under control with both boys making good progress and looking like they were enjoying a good race, after just 8 laps Tristan suffered a crash. I could only see the smoke from the opposite side of the track, yet when I checked the bikes coming round I found Tristan missing. I knew it had to be him. Thankfully Tristan is OK, I spotted him later watching the National Superstock Cup race with Ollie. His right arm was in a sling but otherwise he seemed to be holding up. Ben, relaxed after the results from the first race, powered ahead to finish 15th.
Points awarded - Ben - 1
Cumulative points - Ben - 9 Tristan - 2
League Position - Ben - 14 Tristan - 21
Superstock Championship
Steady practice sessions and hard work during qualifying paid off in good grid positions for Ollie of 11th and Aaron 15th. After some friendly inter team battles and much swapping of positions from lap to lap Ollie finished 9th with Aaron just behind at 11th. An excellent result for both riders and the team.
Points awarded - Ollie - 7 Aaron - 5
Cumulative points - Ollie - 13 Aaron - 5
League Position - Ollie - 8 Aaron - 14
---
Round 1 - Brands Hatch
BSB
For a young and new team, the first round of the season looked good. Ben & Tristan did well enough in practice to not only catch my attention and capture my support but also managed to secure grid positions of 19th & 28th respectively for the opening races at Brands.
Race 1 - the boys finished 11th & 14th after some pretty fantastic riding, with more than a few "hold your breath" moments as Ben in particular showed a determination to work his way up to 11th place and hold it. Tristan gained an amazing 14 places although from where I was standing (on the outside below Druids just above Graham Hill bend) I missed most of his battles for position.
Race 2 - the boys managed 13th & 22nd, they seemed to find this race a lot more difficult, whether this was partially because of the huge effort put in at Race 1, or the sun disappearing and leaving things a tad dark & chilly who can say.
Points - Ben - 8 Tristan - 2
Superstock Championship
Carrying on with the team ethic, strong results placed Ollie 9th on the Grid and Aaron 22nd. Ollie slipped one position to finish 10th, however Aaron suffered a spill after 12 laps and so was unable to finish the race.
Points - Ollie - 6
Following the race at Brands, Ollie was awarded the Fred Clarke Superstock Rider of the Day award. He was selected for the award out of the top ten finishers above those who finished before him as they were more experienced riders and it was Ollie's very first race for Vivadli in the Superstock Championship.
---
Copyright © 2005 by Girlie_Biker/Girlie-Biker. All rights reserved.
Pictures used by kind permission of Mikey Scott.
Revised: 07 Jul 2012 11:45:19 .